Graham Greene on
Brighton Rock
: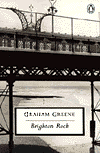 Brighton Rock I began in 1937 as a detective story and continued, I am sometimes tempted to think, as an error of judgment…The first fifty pages of Brighton Rock are all that remain of the detective story; they would irritate me, if I dared to look at them now, for I know I ought to have had the strength of mind to remove them, and to start the story again—however difficult the revisions might have proved — with what is now called Part Two.
...the setting of Brighton Rock may in part belong to an imaginary geographic region. Though Nelson Place has been cleared away since the war, and the Brighton race gangs were to all intents quashed forever as a serious menace at Lewes Assizes a little before the date of my novel, and even Sherry's dance hall has vanished, they certainly did exist; there was a real Nelson Place, and a man was kidnapped on Brighton front in a broad daylight of the thirties, though not in the same circumstances as Hale, and his body was found somewhere out towards the Downs flung from a car. Colleoni, the gang leader, had his real prototype who had retired by 1938 and lived a gracious Catholic life in one of the Brighton crescents, although I found his name was still law when I demanded entrance by virtue of it to a little London nightclub called The Nest behind Regent Street…
All the same I must plead guilty to manufacturing this Brighton of mine as I never manufactured Mexico or Indochina. There were no living models for these gangsters, nor for the barmaid who so obstinately refused to come alive. I had spent only one night in the company of someone who could have belonged to Pinkie's gang—a man from the Wandsworth dog-tracks whose face had been carved because he was suspected of grassing to the bogies after a killing in the stadium. (He taught me the only professional slang I knew, but one cannot learn a language in one night however long.)
...The Pinkies are the real Peter Pans – doomed to be juvenile for a lifetime. They have something of a fallen angel about them, a morality which once belonged to another place. The outlaw of justice always keeps in his heart the sense of justice outraged – his crimes have an excuse and yet he is pursued by the Others. The Others have committed worse crimes and flourish. The world is full of Others who wear the masks of Success, of a Happy Family. Whatever crime he may be driven to commit the child who doesn't grow up remains the great champion of justice. "An eye for an eye." "Give them a dose of their own medicine." As children we have all suffered punishments for faults we have not committed, but the wound has soon healed. With Raven and Pinkie the wound never heals.
from Ways of Escape, pp.56-57, 61
---
© Melody Yiu
Email me: greeneland -at- gmail . com
Images and quoted text on this website may be protected by U.S. and international copyright laws. They are presented here for academic interest and personal entertainment. No distribution, reproduction, re-transmission or other rights are given or implied by their appearance. If you have any copyright concerns, please notify me.