Graham Greene on
Travels with My Aunt
: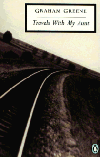 If A Burnt-Out Case in 1961 represented the depressive side of a manic-depressive writer, Travels with My Aunt eight years later surely represented the manic at its height—or depth.
… Travels with My Aunt is the only book I have written for the fun of it. Although the subject is old age and death – a suitable subject to tackle at the age of sixty-five – and though an excellent Swedish critic described the novel justly as "laughter in the shadows of the gallows," I experienced more of the laughter and little of the shadow in writing it. When I began with the scene of the cremation of Henry Pulling's supposed mother and his encounter with Aunt Augusta I didn't believe for a moment that I would continue the novel for more than a few days. I didn't even know what the next scene was likely to be – I didn't know that Augusta was Henry's mother. Every day when I sat down before the blank sheets of foolscap (for as symbol of my new freedom I had abandoned the single lined variety where the lines seemed to me now like the bars on a prison window) I had no idea what was going to happen to Henry or Augusta next. I felt like a rider who has dropped the reins and left the direction to his horse or like a dreamer who watches his dream unfold without power to alter its course. I felt above all that I had broken for good or ill with the past.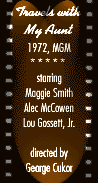 I was even irresponsible enough to include some private jokes which no reader would understand. Why not? I didn't expect to have any readers. So I christened "Detective-Sergeant Sparrow, John" after that elegant scholar the ex-Warden of All Souls, Augusta's black lover "Wordsworth" after a villainous District Commissioner whom I had met more than thirty years before in Liberia, Mr. Visconti's son "Mario" after my friend Mario Soldati who once greeted me and gave me lunch in Milan station with similar flamboyance on my way to Istanbul. I remember I even found room for Kingsley Amis's surname which I gave to a character on whom I can't at the moment lay my finger. The name Visconti for Aunt Augusta's lover was adapted from my favourite character in Marjorie Bowen's The Viper of Milan which I had loved as a boy, and it gave me an innocent amusement when I heard Detective Sparrow describing him as a viper. Some critics have found in the book a kind of resume of my literary career—a scene in Brighton, the journey on the Orient Express, and perhaps a hint of this did come to my mind by the time Aunt Augusta arrived at the Pera Palace, but what struck me with some uneasiness, when I reread the book the other day, were the suggestions I found in it of where the future was going to take me. The boat which carried Henry Pulling from Buenos Aires to Asuncion stopped for half an hour during the night in the little river harbour of Corrientes in northern Argentina, but I had no idea that I would be landing there from a plane some years later in search of the right setting for The Honorary Consul.
from Ways of Escape, pp.246-248
---
© Melody Yiu
Email me: greeneland -at- gmail . com
Images and quoted text on this website may be protected by U.S. and international copyright laws. They are presented here for academic interest and personal entertainment. No distribution, reproduction, re-transmission or other rights are given or implied by their appearance. If you have any copyright concerns, please notify me.